Scope and Content
The Kupferberg and Topp Collection reflects Tuli's literary, musical, artistic, and political career, as well as Tuli and Sylvia's publishing work with Birth Press and theatrical work with the Revolting Theater. What makes this collection unique is the huge variety of areas of Tuli's interest, and his foresight to save many one-of-a-kind objects that others might not have valued. The collection shares affinities with writers from both the Beat and New York schools of poetry and also reflects New York counterculture music, theater, and political activities and interests, including opposition to the Vietnam War. The collection dates from the late 1930s to 2010.
The collection includes Tuli's handwritten and typed manuscripts of poems, songs, articles, and novels; original art, cartoons, collages, and illustrations; costumes, props, and handmade percussion instruments used with the Fugs and the Revolting Theater; flyers and posters; audio and video recordings; published works; pamphlets, magazines, books, and printed ephemera. Source material for Birth Press titles includes original manuscripts, boards, negatives, and plates. The collection contains correspondence from writers, publishers, and Fugs fans as well as letters to Birth Press. The printed works include a complete set of publications by Birth Press as well as a substantial number of small and private-press literary magazines, counterculture and political newspapers and pamphlets, and other assorted publications. The printed ephemera include an exceptional collection of magazine and newspaper clippings of political, cultural, and other topical subjects, as well as cartoons and other illustrations collected by Tuli for his research, collages, and publications.

Biographies and Collection Overview
Naphtali "Tuli" Kupferberg (born September 28, 1923 – died July 12, 2010) was an American counterculture poet, author, song writer, cartoonist, publisher, artist, actor, activist, and co-founder of the band the Fugs.
Born into a Jewish, Yiddish-speaking household on the Lower East Side, Tuli was immersed by his immigrant parents into the city's vibrant Jewish traditions and Yiddish theater. He grew up in New York during the Great Depression and felt that he became radicalized by the experience. At the age of 13 he was keeping company with Trotskyite groups in Manhattan. He attended Brooklyn College during World War II and became involved in the militant political factions on campus, which included socialists, anarchists, Stalinists, and Trotskyites. After graduating in 1944, he had a variety of jobs: working in a factory, with a job stretching animal skins; working at a bookstore, where he went on his own one-man strike, parading in front of the store with protest signs; and forming a delivery-service co-op with a couple of friends, carrying packages by bicycle and subway. He was married to his first wife for a short time and his eldest son, Joseph Sacks, was born in 1949. In the early 1950s he took a position as a medical librarian, and later answered questions by mail from subscribers to an encylopedia.
Tuli became active in the rich literary/political scene that took place in downtown New York City beginning in the mid-1940s. During this period he joined the Wobblies (Industrial Workers of the World) and the War Resisters League, befriending Julian Beck and Judith Malina of the Living Theater and radical educator and writer Paul Goodman. Tuli started writing extensively while still in high school and saw his first poem published in 1942. The Kupferberg and Topp Collection includes an unpublished autobiographical novel written in the late 40s or early 50s that describes his teenage and college years. There are over a thousand hand-written and typed unpublished poems from this time period. Through the 1950s some of his poems, short stories, and essays were published in downtown poetry/literary journals and newspapers, including the Village Voice, Midstream, and Liberation, and he was featured in The Beat Scene anthology in 1960.
Tuli began drawing in the early 1950s. Some of his earliest work included detailed drawings with captions of witty, altered aphorisms. This led to a lifelong project, the Book of Perverbs, with folders of material for the project collected throughout the next six decades.

These early illustrated perverbs informed Tuli's cartooning approach, which combined captions, drawings, and collage elements (often text and images from books and newsprint) into a style that defined the look of Birth Press in the 1950s and 1960s and the thousands of cartoons and collages that he created over the next 40 years.
Tuli met Sylvia Topp (born July 28, 1935) in 1957. They lived in the East Village and together they ran Birth Press, publishing approximately 50 titles over the next 10-plus years. Tuli was the primary writer and collector of material and Sylvia designed and laid out each edition. The booklets were printed locally and then assembled at their home, with a group of friends helping with the folding machine and collating and stapling the pages. They distributed them directly to local bookstores and also sold copies on the street.
The first title, Birth, ran for three issues and featured Allen Ginsberg, Diane Di Prima, LeRoi Jones, and others in and around the Beat scene, as well as the first published work of Ted Joans. Among the other publications of Birth Press were 10 issues of Yeah magazine, 1961-1965; four issues of Swing: Writing by Children, 1960-1961; the books Snow Job, 1959; Selected Fruits & Nuts, 1959; Beatniks, or The War Against the Beats, 1961; 1001 Ways to Live Without Working, 1961; and the plays Caught in the Act: A Legal Vaudeville, 1966, and Fuck Nam: A Morality Play, 1967.

During this period Sylvia did freelance copy editing for many publishing houses, including Grove Press and Academic Press. Tuli's poems and songs continued to be published in underground newspapers such as the East Village Other, Other Scenes, the Berkeley Barb, and International Times. He also published a number of political essays such as "Are the Police Necessary?," "The Love of Politics and the Politics of Love," "A Diatribe with Myself About Not-Violence," and "Some Revolutionary Alternatives to Violence." In 1966 he and Robert Bashlow co-authored the satirical anti-war book 1001 Ways to Beat the Draft. It was reprinted in 1967 by a major publisher, Grove Press, and is recognized, along with Arlo Guthrie's Alice's Restaurant, as one of the most notable anti-war statements of the Vietnam War era. Soon after, Grove published 1001 Ways to Make Love. Copies of all this material are in the collection.
Another major area of collection is Vietnam War protest material, including flyers for rallies, letters from soldiers and conscientious objectors about their feelings on the war and the draft, and other general war research.
Here is also a remarkable collection of unusual vintage advertisements, many of which were used in Birth Press, in the Revolting Theater, on his album No Deposit, No Return, and later in solo shows and on "Revolting News," Tuli's public-access cable show.
Several major areas of research which appear consistently through the decades are: Children, Drugs, Humor, Medicine, Politics, Sex, and War.
In 1964, Ed Sanders, poet, activist, and owner of the Peace Eye bookstore, approached Tuli about forming a rock group. Tuli agreed and the Fugs began performing in galleries, clubs, and theaters in New York City beginning in early 1965. They sang at the opening party for the new location of Izzy Young's Folklore Center on 6th Avenue and performed at Diane Di Prima's American Theater for Poetry on East 4th St. They soon began a series of midnight concerts at the Bridge Theater on St. Mark's Place, and later moved their act to the Astor Place Theater on Lafayette Street, and then to the Players Theater on Macdougal Street, where they played over 600 performances. The band recorded six albums and also toured regularly, playing at theaters, colleges, political rallies, and bookstores. The Fugs were signed to Frank Sinatra's Reprise Records and were recognized internationally for their music and for their strong opposition to the Vietnam War. Tuli was in his forties when the band formed and he jokingly referred to himself as "the world's oldest rock star."

In 1967, the Johnny Carson television show refused to let the band perform when Sanders insisted on having the Fugs sing Tuli's song "Kill for Peace" as a protest against the Vietnam War. In October 1967, Sanders, Tuli, and the San Francisco Diggers sang and conducted an "Exorcism" on a flatbed truck at a massive demonstration at the Pentagon, the first national protest against the Vietnam War. Tuli was arrested and spent a few days in jail, as commemorated by Norman Mailer in The Armies of the Night. The Fugs stopped performing in the fall of 1969. Then, in 1984, Ed and Tuli regrouped and continued recording and performing periodically until recently. All Tuli's songs and costumes for the Fugs' performances are included in this collection.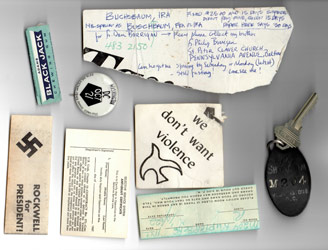 When the Fugs broke up temporarily, Tuli formed a satirical theatrical group called the Revolting Theater. Tuli had released a solo album, No Deposit, No Return, on ESP in 1966, and this album was a precursor to the Revolting Theater acts, with some of the same material used. The performances included songs, satiric skits, newspoems, pop poetry, perverbs, and a slide show of actual advertisements that were strange, funny, or quirky ("slide entertainments of satiric commentary on topics of current interest").
The troupe members evolved over time and included Tuli (who performed, wrote, or selected the skits and created the props, costumes, and slide show), Sylvia (who performed, ran the slide show, planned scripts, and was the primary business manager for the show), Lannes Kenfield, Joe Sacks, Sandy Mowbray-Clarke, Liz Reisner, Stephen Petroff, and Craig Payne. They were active in the early 1970s, performing at college campuses throughout the Northeast U.S. and Canada. Tuli continued to use the name for solo performances later on. Material from his theater group is included in this collection.
Tuli's colorful and sometimes bizarre costumes were an extremely important part of his performances, beginning with the Fugs, when he traveled with two very large suitcases full of them. He also built several bottle-cap shaker sticks, which he called "erectorines," to use for percussion with the Fugs. These costumes and props were also later used in the Revolting Theater. Many of these items are in the collection.

Tuli appeared in the 1971 film W.R.: Mysteries of the Organism by Yugoslav director Dušan Makavejev. The film explored the relationship between communist politics and sexuality, as well as depicting the life and work of Wilhelm Reich. Tuli, Sylvia, and Lannes Kenfield appeared in a Revolting Theater sketch in the Richard Pryor film Dynamite Chicken in January1972. Later in 1972, Tuli starred in the Canadian experimental feature film Voulez-Vous Coucher Avec God? directed by Jack Christie and Michael Hirsh.
Beginning in the 1970s, along with his original songs, Tuli started writing what he described as "parasongs," which consisted of new lyrics adapted to known melodies. Many of these parasongs were published by Tuli and Sylvia in Listen to the Mockingbird, 1973. Times Change Press also published a 2nd edition in 1973, and a 3rd edition was published by Tuli and Sylvia in 1980, as well as in the Netherlands by Azid Presse under the title Why Don't We Do It in the Bed?, in 1982. Tuli wrote these consistently and never stopped writing them until close to the end of his life. He also asked other musicians to contribute songs for a future edition of Listen to the Mockingbird and collected hundreds over the course of two decades. These parasongs are all in the collection.
Tuli and Sylvia and their two children, Noah and Samara, moved into a loft at Spring St. and 6th Avenue in 1975. At this point they had already amassed a sizable collection of material, and throughout the following years Tuli continued to save many thousands of books, magazines, pamphlets, and zines, including a vast number of anarchist publications from throughout the world.
There is also a notable collection of original children's drawings and writing, much of which was gathered for use in their magazine Swing as well as in the As They Were books and First Glance. As They Were (1973) and As They Were Too (1979) contained childhood and young adult photographs of celebrities, including Louis Armstrong, James Cagney, Marlene Dietrich, Aldous Huxley, Lyndon Johnson, Martin Luther King, Jr., Henry Miller, Bertrand Russell, Dylan Thomas, and Oscar Wilde. Tuli and Sylvia also co-edited First Glance: Childhood Creations of the Famous (1978), a collection of the early writing and art of famous people.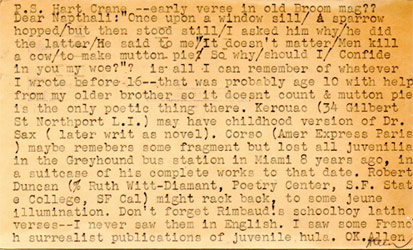 Thoughout the 1970s and 80s Tuli and Sylvia published numerous booklets of Tuli's newspoems and cartoons, and his parasongs, lyrics, and lists of quotations on various subjects appeared regularly in many newspapers and magazines, such as the Soho Weekly News, the Village Voice, WIN, Screw, and N.Y. Arts Weekly. He had a column in High Times in the early 1980s called "Dope Lore, 1001 Thoughts about Dope." Readers wrote letters to Tuli telling him their personal anecdotes, and these were occasionally used in the column. He also wrote a second column in High Times called "Ask Dr. Fuck," where he answered readers' questions about sex. Many of these letters are included in the collection.

Tuli made regular appearances on the Coca Crystal Show on Manhattan Neighborhood Network, beginning in 1977, as well as on Paper Tiger Television, in 1982 and 1983, and these videotapes are included.
In the early and mid-1980s, Tuli completed a manuscript for his novel, The Fucks, based on the exploits of the Fugs. Chapters were printed in literary journals, but the complete book remains unpublished.
A second solo album, Tuli & Friends (Shimmy Disc), was recorded and released in 1989.
In 1989 Tuli and Lannes Kenfield produced and videotaped a show titled Theater of the Real.
Tuli and Kenfield founded the cable-TV show, "Revolting News," on Manhattan Neighborhood Network in 1992. The show was produced by Norman Savitt from 1994 to November 2003, when Thelma Blitz took over as the show's producer. These tapes are also included.
Tuli and Thelma sold cartoons, books, and records throughout the 1990s from a table on the sidewalk of Spring Street, near his apartment. In his final year, though blinded by a stroke, Tuli continued to create "perverbs" which Thelma videotaped for posting on YouTube.
In the 1990s, a 73-page unpublished manuscript, I'm Quitting Friday, Anyway: A History of Radical Humor, was edited by Tuli and Michael Brown. They compiled this working proposal for a book of radical humor from Tuli's substantial collection of source material. This manuscript is in the collection.
Throughout the 1990s until 2010, Tuli's cartoons, collages, newspoems, and parasongs were regularly featured in newspapers and magazines such as N.Y. Press, Against the Current, Home Planet News, The Shadow, Street News, WIN, and Freedom.
Sylvia has been an active member of the New York publishing world for over fifty years. In 1975, she started working in the production department of the Soho Weekly News, advancing to production manager before the paper folded in 1982. In 1984, she started in the production department of the Village Voice, becoming production director before leaving that paper in 1996. Sylvia has had articles published in The North American Review, the Village Voice, the Toronto Globe and Mail, Huffington Post, and various collections. Since 1999 she has worked as a copy editor at Vanity Fair.
In 2007 Samara and archivist Don Fleming, associate director of the Alan Lomax Archive, started the process of cataloguing the contents of the collection. Over the next three years, with a great deal of input from Tuli and Sylvia, this initial catalog has been prepared. There are still materials that have not been sorted and catalogued, but this will give a solid overview of the collection. Samara has taken on the role of administrator of her father's estate and has already been busy with requests for use of material from the collection. The short-term goal of this catalog is to find a permanent home for this sizable and vital collection. The long-term goal of the estate is to insure that the materials are preserved and catalogued to the best archival standards and made available, through a comprehensive system of accessibility, to researchers and for exhibition and dissemination through publication. The estate plans to actively administer the material rights and encourage various publishing opportunities.

Key Collection Arrangement
Art, Collages, and Illustrations: Original cartoons, collages, and illustrations. 15+ boxes.
Audio Recordings: Reel to reel tapes and cassettes. Music, poetry readings, and home recordings dating from the 1960s through 2009. 3 boxes.
Birth Press Materials: Original manuscripts, source material, photos, associated notes, correspondence, boards, negatives, and plates for titles produced and edited by Tuli Kupferberg and Sylvia Topp for Birth Press. Original copies of Birth Press and other publications published by Kupferberg and Topp. 7 boxes.
Correspondence: Includes personal correspondence, correspondence with publishers, Fugs fan mail, Birth Press correspondence. Notable correspondence to Tuli includes letters from: Ted Berrigan, Paul Bowles, Diane Di Prima, Lawrence Ferlinghetti, Allen Ginsberg, Paul Goodman, Dick Higgins, Abbie Hoffman, Ted Joans, Ray Johnson, LeRoi Jones, G. Legman, Norman Mailer, Henry Miller, Arthur Moyse, Anais Nin, Genesis P'Orridge, Wilhelm Reich, Ed Sanders, Ken Weaver. 11 boxes.

Costumes/Props/Instruments: Costumes, handmade and acquired props, and handmade percussion instruments used in performances with the Fugs, the Revolting Theater, and later live and TV performances. 10 boxes.
Music Projects: The Fugs' and solo recordings. Original lyrics, notebooks, notes, photos, reviews, posters, flyers, songbooks, programs, handmade signs, audio tapes, costumes, and associated correspondence. 10 boxes.
Poetry, Lyrics, and Other Written Works: Original scripts and manuscripts. Manuscripts and working papers for published and unpublished works. Handwritten and typed poems, short stories, articles, essays, songs, parasongs, newspoems, perverbs, plays and novels. 20+ boxes.
Printed Ephemera: Pamphlets, posters, flyers, photos. 2 boxes.
Professional Papers and Research Notes: An exceptional collection of magazine and newspaper clippings of political, cultural, and other topical subjects; political cartoons; other illustrations of interest to Tuli for his publications and collages. 20+ boxes and several file cabinets.
Published Newspapers, Magazines, and Pamphlets: Materials containing Tuli's articles, poems, songs, and cartoons not published by Kupferberg and Topp. 18+ boxes. Plus hundreds of periodicals that Tuli collected from around the world on a wide range of subject matter, from sex and humor to current news and anarchism. 8+ boxes.
Revolting Theater: Files and ephemera. 5 boxes. Video Tapes: 300 VHS broadcast master tapes of Revolting News cable-access show. Plus 6+ boxes of other various tapes.
Wilhelm Reich and the Orgone Accumulator: Numerous letters to Tuli from Wilhelm Reich and the Reich Institute regarding the Orgone Energy Accumulator that Tuli received from the Reich Institute in 1952.
A FULL INVENTORY OF THIS COLLECTION CAN BE FOUND HERE.
For more information about the archive, contact Ken Lopez at 413-584-4827 or klopez@well.com.