Tarzana & Hollywood
Tarzana
In 1919, Burroughs moved his family from Chicago to California and purchased the 540-acre estate of Gen. Harrison Gray Otis, founder of The Los Angeles Times, and named the ranch Tarzana. Burroughs planned to raise hogs and other livestock on the property and live the idyllic life of a gentleman farmer. Burroughs' farming ventures proved less lucrative, and despite a try at recouping losses by renting sections of the ranch for motion picture location shoots, soon his dream of owning a large tract of unspoiled land transformed into the nightmare of a large financial loss. By 1922 Burroughs began to subdivide the property into lots to be sold; his large home later was also sold and became the clubhouse of the El Caballero Country Club.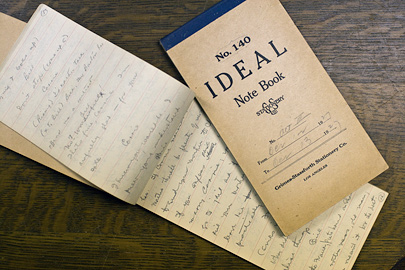 In 1923, in an effort to further cut his expenses and tighten creative control of his work, Burroughs became one of the first artists to incorporate, forming Edgar Rice Burroughs Inc., which to this day handles the licensing of Burroughs' characters and stories. Despite the growing number of projects and business ventures Burroughs took on, his written output in the 1920s did not slacken. The decade saw some of his most imaginative and varied output, including westerns and plays.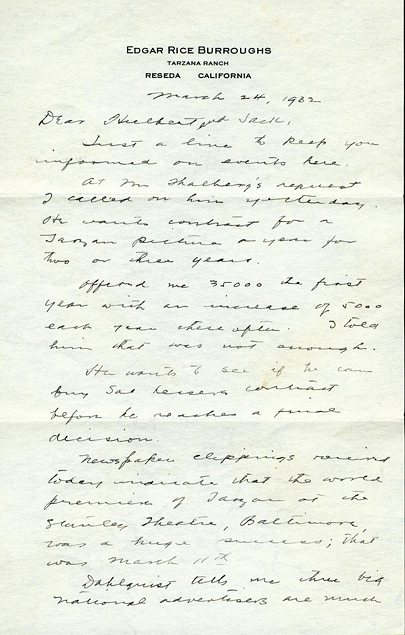 Hollywood
As early as 1914, ERB was keen on seeing Tarzan adapted to film in the nascent motion picture industry. During the mid-teens he embarked on a complicated, often frustrating, string of contracts and dealings with producers and agents concerning the film rights to his works. The first film of a Burroughs work was "The Lad and the Lion," released in 1917, and the first adaptation of Tarzan of the Apes appeared the following year. Burroughs' early experiences with movie-making left him with a lasting sour and skeptical attitude of the industry. He was often at odds with the treatment of his stories as well as with the dispensation of royalties. Still, Hollywood brought Burroughs substantial financial rewards.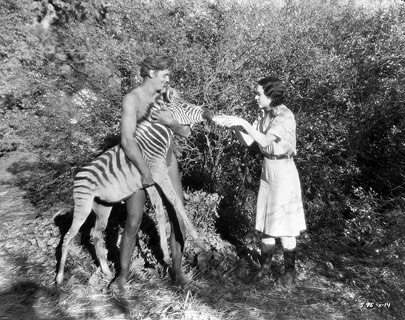 Burroughs' Hollywood career reached its zenith in the early 1930s when he entered into an agreement with MGM to produce a series of movies staring Johnny Weissmuller and Maureen O'Sullivan. The success of these movies facilitated the further expansion of the Tarzan empire into radio, comics and merchandise. In the mid-1930s Burroughs, with Ashton Deerholt, formed a film production company, Burroughs-Tarzan Pictures, to produce his own movies as well as other non-Burroughs films. After a disastrous experience filming The New Advenures of Tarzan on location in Guatemala in 1935, Burroughs-Tarzan Pictures was quickly saddled with a debt burden from which it never fully recovered, and the company was out of business before the end of 1937. As the 1930s closed, an aging Burroughs, seeking more relaxation and thrift, departed from California and became a resident of Hawaii.