Rags to Riches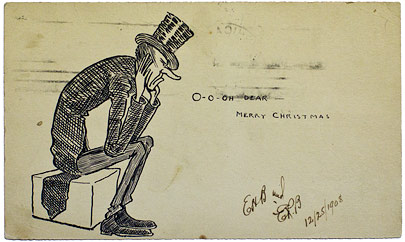 Lean Times
In the summer of 1911, Edgar Rice Burroughs was 35 years old, a middle-aged father of two, working in a dead end job as a manager for a pencil sharpener company. All his previous ventures had ended poorly: health problems caused him to give up working on his brothers' ranch in Idaho; he failed the admissions exam for West Point, and a stint in the cavalry as an enlisted man was cut short by a combination of, again, health problems and a temperament that didn't deal well with the disciplinary demands of a martinet superior officer. Burroughs had joined in order to help track down a renegade scout, the Apache Kid, in the desert Southwest. He loved the outdoors, was an excellent rider, and his taste for adventure made this seem an ideal, even romantic, posting. Instead, his troop rarely left their fort and spent most of its time doing the mindless makework activities the military is famous for. He returned to Chicago in 1899 and got married in 1900. One low-paying job followed another, and by the time he reached middle age, if one had to summarize his life in a single word, "failure" might have been a good choice.
One advantage of his boring managerial job, however: there wasn't much to do, and he spent a lot of time reading adventure stories in the popular pulp magazines of the day. Before long, he decided he could make up stories as good – or at least as "rotten," as he later put it – as the ones he was reading, and he determined to give it a try.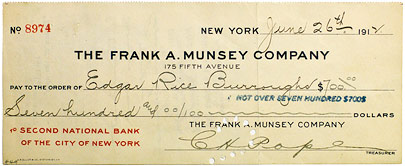 Moving On Up: Tarzan
One hundred years ago, Edgar Rice Burroughs began writing the adventure stories that would make him – and his most famous fictional creation, Tarzan – household names around the world.
He began his first story in the summer of 1911. "Under the Moons of Mars" was accepted for publication in November, 1911 and serialized in The Munsey Company's All-Story Magazine beginning in February, 1912. Burroughs received $400 for the rights to it, approximately $9280 in today's dollars.
Flush with the success of his first effort, Burroughs wrote a second story for All-Story, "Tarzan of the Apes." When it was accepted for publication and he received the above check for $700 (about $16,200 today) he realized that he might actually be able to make a living writing these stories and set out to do so.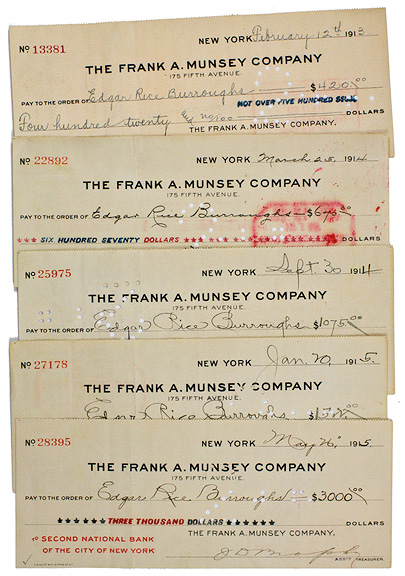 Fame & Fortune
In the immediate wake of the publication of Tarzan of the Apes, Burroughs wrote new stories at a brisk pace. There were several new Tarzan stories, The Return of Tarzan, The Beasts of Tarzan, The Son of Tarzan and Tarzan and the Jewels of Opar; Barsoom stories, The Gods of Mars, The Warlord of Mars; a Pellucidar story, At the Earth's Core; along with others.
As Burroughs' popularity grew, so did the the amounts on the checks arriving regularly from the Munsey Company, and by the mid teens, Burroughs was a wealthy man. In 1916, Burroughs, now financially secure, indulged in his lifelong love for adventure and took his family on a long touring & camping expedition through the American west to California. Burroughs maintained a detailed journal of the trip and later typed and bound the manuscript, along with photographs, into a unique, self-published, travelogue titled "Camping Out."